Fliki, the innovative AI-powered video creation platform, has emerged as a game-changer in the world of content creation. With its advanced technology, Fliki has simplified and accelerated the process of video production like never before.
Fliki's standout feature is its ability to generate high-quality videos with remarkable speed and efficiency. Whether you're a content creator, marketer, or business owner, Fliki's intuitive interface allows you to create stunning videos in a matter of minutes. 
By harnessing the power of artificial intelligence, Fliki automates various aspects of video production, from scriptwriting to editing, making it a valuable asset for both beginners and experienced videographers.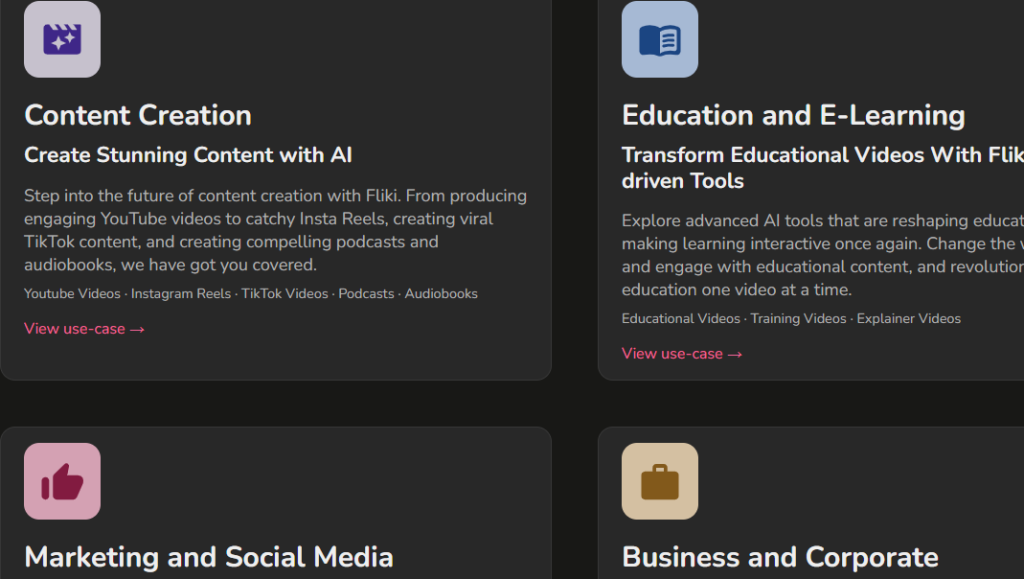 One of the most impressive facets of Fliki is its versatility. It caters to a wide range of video content needs, including promotional videos, educational content, social media clips, and more. 
Users can customize video styles, select from a diverse library of templates, and even incorporate voiceovers and music to suit their specific requirements.
How To Create Video With Fliki AI
Create a Fliki AI account:
Go to the Fliki AI website and click the "Sign Up" button at the top right of the page. Enter your name, a valid email address, and a secure password.
Check your email for the verification link, and click it to finish the registration process.
Upload a video clip:
The next step is to upload your video clip. You have a choice to upload videos of up to 7 minutes from your device or choose from the Fliki AI library.
Choose a Template: 
Fliki AI has a wide range of video templates to choose from. Each template includes music, titles, transitions, and effects that match the theme of the video. Choose a template that aligns with the topic of your video.
Choose the music track: 
Once you have added the video clip, you need to select the music track for the video. You can choose it from the in-built library, or you can add your own music.
Add Voiceover 
With Fliki AI, you have the ability to enhance your videos with voiceovers and make them more meaningful and engaging for your audience. Simply add your voice to your videos and give them a personal touch that will keep your viewers coming back for more.
Fliki AI is the perfect tool to make your videos stand out, and with its easy-to-use interface, you can start adding voiceovers to your videos in no time.
Customize the text and add graphics: 
Fliki AI allows you to customize the text and add graphics to your video. You can add text to match the narrative of the video or to include important information. You can also add graphics with just a few clicks.
Add effects and transitions: 
Fliki AI has a range of effects and transitions that you can add to your video to make it eye-catching. From color filters to overlays, you can add effects with just a few clicks.
Preview and share your video: 
Once you are happy with your video, you can preview it to see how it looks. If you are satisfied, you can share your video directly on social media or download it to your device.
Pricing: 
Fliki AI offers a range of pricing plans to suit various needs. These typically include free trials, and subscription-based plans. Pricing can vary based on usage and the number of features included, making it accessible for both individuals and businesses.
Pros:
Time-Efficiency: Fliki AI can significantly reduce the time required to create high-quality content.
Versatility: It can generate content for a wide range of topics and industries.
User-Friendly: The platform is easy to use, even for individuals with minimal technical skills.
Cost-Effective: Fliki AI can be more cost-effective than hiring professional writers for content creation.
Cons:
Quality Control: While Fliki AI produces impressive content, occasional edits may be necessary to ensure it aligns perfectly with specific requirements.
Pricing Tiers: Advanced features may come at an additional cost, which can add up for heavy users.
Customer Support: 
Fliki AI prides itself on responsive customer support. Users can typically reach out via email, chat, or a dedicated support portal to get assistance with any issues or questions they may have.
In conclusion, 
Fliki AI is a powerful tool for content generation that offers great value for businesses and individuals looking to streamline their content creation process. With its versatile features, competitive pricing, and strong customer support, it has the potential to become an essential tool in the arsenal of content creators worldwide.