Cryptocurrency trading has gained tremendous popularity in recent years, with various exchanges emerging to cater to the needs of traders worldwide. Among these exchanges, Phemex.com has emerged as a secure and reliable platform for crypto enthusiasts. Founded in 2019, Phemex.com has quickly established itself as a leading player in the industry, offering a wide range of features and services that cater to both beginners and experienced traders.
Phemex.com Exchange Key Features
When it comes to choosing a cryptocurrency exchange, security is of utmost importance. Phemex.com understands this and goes above and beyond to ensure the safety of its users' assets. The platform utilizes cutting-edge encryption technology and multi-signature cold wallet systems to protect funds from potential security breaches.
In addition to its robust security measures, Phemex.com offers a user-friendly interface, making it easy for traders to navigate the platform and execute trades efficiently. The sleek design and intuitive layout contribute to a seamless trading experience, even for those new to the world of cryptocurrency.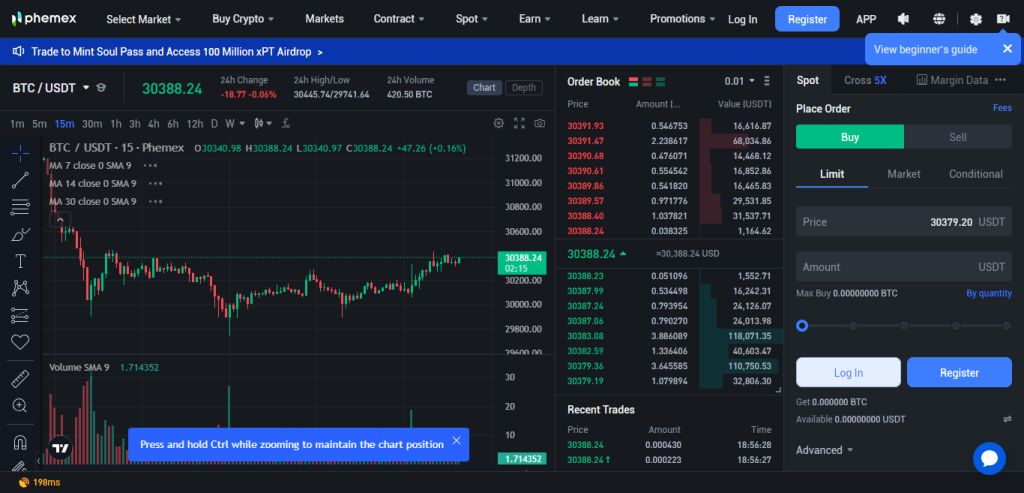 Phemex provides a spot trading feature that allows users to buy and sell cryptocurrencies at real-time market prices. With a diverse range of supported coins, traders can explore different investment options and diversify their portfolios. The platform's advanced trading engine ensures quick and reliable order execution, providing traders with a competitive edge in the fast-paced cryptocurrency market.
Apart from spot trading, Phemex also enables users to engage in derivatives trading. This feature allows traders to speculate on the price movements of various cryptocurrencies without actually owning them. By offering perpetual contracts, traders can profit from both rising and falling markets, taking advantage of market volatility to maximize their potential earnings.
Phemex also stands out for its social trading feature, which allows users to follow and copy the trades of successful traders on the platform. This unique functionality opens up opportunities for less experienced traders to learn from seasoned professionals and potentially replicate their success. The ability to interact with other traders and share insights further enhances the sense of community within the Phemex.com ecosystem.
Phemex Derivatives Trading-

Derivatives trading on Phemex presents an opportunity for traders to amplify their potential returns. By offering leveraged trading options, Phemex enables users to trade with borrowed funds, allowing them to take larger positions and potentially magnify their profits. 
However, it's essential to note that leveraged trading also carries increased risk, as losses can exceed the initial investment. Traders should exercise caution and thoroughly understand the risks involved before engaging in leveraged trading.
 Phemex's derivatives trading platform incorporates various order types, including market orders, limit orders, and conditional orders. Traders can implement advanced trading strategies by utilizing these order types, improving their chances of success in the cryptocurrency market.
Recognizing the needs of professional traders and institutions, Phemex offers sub-accounts, a feature that allows users to manage multiple accounts under a single master account. This functionality is particularly useful for traders who want to separate their personal and professional trading activities or manage different trading strategies simultaneously.
Sub-accounts on Phemex provide granular control, allowing traders to allocate specific portions of their funds to each sub-account and customize the settings according to their preferences. Each sub-account operates independently, ensuring clear segregation and transparency of funds for enhanced portfolio management.
Phemex.com also paves the way for users to passively grow their cryptocurrency holdings through its innovative Phemex Earn feature. By depositing idle funds into the Phemex.com Earn wallet, users can earn interest on their holdings. This functionality not only allows users to optimize their returns but also provides an alternative to traditional banking products.
Phemex.com Earn offers various options for users to choose from, including flexible and fixed-term options with different interest rates. This flexibility caters to the diverse needs of traders, whether they prefer short-term gains or long-term accumulation strategies.
In conclusion, Phemex.com shines as a secure and feature-packed cryptocurrency exchange, empowering traders with its cutting-edge technology and user-centric approach. With its commitment to security, intuitive interface, derivatives trading, sub-accounts, and the innovative Phemex.com Earn feature, Phemex proves to be a promising platform for both novice and experienced traders alike. Stay ahead of the curve and embrace the future of crypto trading with Phemex.com .